Cresset Chemical Company was founded in 1946 by Dr. Joseph A. Baty, a chemist, his brother, Carl E. Baty and John Romig.
Joe was President, Carl was Vice-President, and Joe's wife Ann was Secretary-Treasurer. They did all the manufacturing in a building on Main Street in Weston, Ohio (now the office) in which the Joe Baty family also lived. Joe and Carl took turns going on the road to sell their product, which, at first, was an industrial hand cleaner they named Sol-Zol.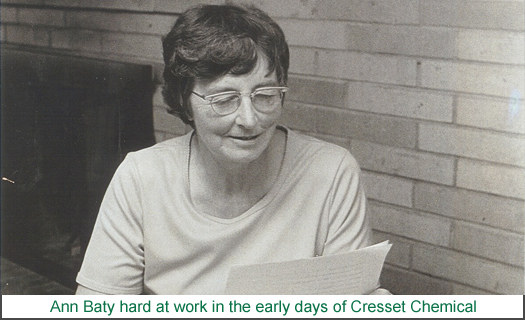 Sol-Zol was an innovative hand cleaner discovered by Joe, an oil that washed off with water. It was the only product of its kind at the time, and proved to be a boon to the cement-lime-and-gypsum industries, where cement and plaster tended to cause skin problems that the Sol-Zol relieved and even prevented.
Other hand cleaners were added over the years and the little company continued to grow steadily, if not spectacularly.
In the early fifties, they bought ten acres of land with a house on it on the edge of town, and built one and then another concrete block building in which to handle the manufacturing and shipping operations.
In the early sixties, concrete release agents and concrete plasticizers were added to Cresset's line of products.
In 1968, George Baty, Joe's son, joined the company and a few years later was named President when Joe resigned to focus on product research. The transition to new management was smoothly accomplished and was complete by the time Joe Baty died in 1974.
With the seventies came new challenges. The rapid rise in prices of petroleum products, together with their decreased availability, was a serious threat because petroleum products comprised eighty percent of the raw materials the company was using. Then the recession in the construction industry created additional challenges because ninety percent of Cresset's customers were in that type of business.
In spite of these obstacles the company flourished. Care was taken to not over-extend or over-promise. Unnecessary expenses were eliminated, unprofitable products were dropped. Marketing methods were improved. Office accounting procedures were reorganized. Plant and office personnel were coordinated into a smoothly running team.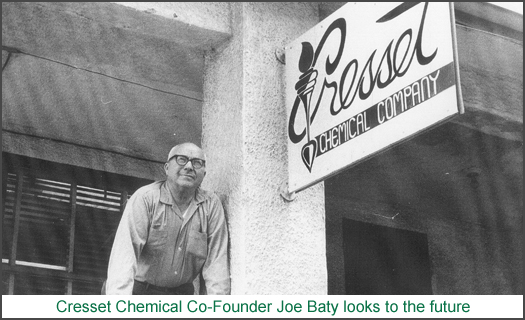 Like many companies, Cresset took advantage of the development of new computer systems in the nineties and kept pace with upgraded computer systems that increased efficiency. In 1996 , the first Cresset.com website was introduced making the brand and the product lineup a click away to anyone around the globe with a computer! George was the first webmaster and was instrumental in its success.
The company entered the 21st century with growing confidence! Steady sales increases and solid profit margins realized a financial stability such as they never had before and the name was increasingly more popular. Cresset's architectural release agents had a solid reputation for superior performance and the company's reach now extended throughout North America.
Following in the family tradition, George's son Mike Baty joined the company in 2002 after a successful career in the Internet Technology field. Working his way up, Mike held several positions in the company from production to sales and marketing. In 2008, Mike was named President and CEO when George retired.
With a growing worldwide focus on sustainable materials and concerns over the effects of hydrocarbons on the environment, Cresset's product research department led the industry in the development of new "Green" technology creating environmentally friendly, effective release agents with reduced VOC's for a wide variety of applications. Under Mike's leadership, those innovative "Green" products have found a global customer base and Cresset products are now shipped to industry professionals worldwide.
Optimism for the future is limitless! Cresset will continue to lead in innovation and produce new products for an ever-changing world.